About us
Bottlabel.com is the first on-line platform that allows you to design, preview and order self-adhesive labels for bottles. We offer labels for bottles in several categories: wine, beer, wedding vodka and other special events such as birthdays, bachelor party or housewarming party. Each category contains many designs that you can edit yourself, adding your own text and photo. Then you can just put the ready-to-stick label on your bottle.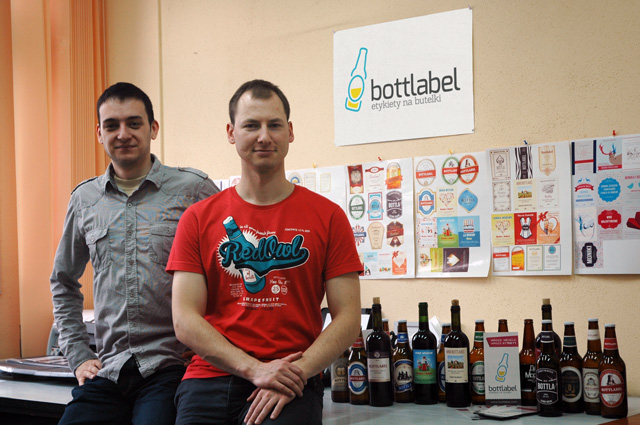 Bottlabel founders - Jerzy and Rafał.
Personalized label, that you can stick by yourself, would be an unforgettable souvenir for home-made beer and wine or unique gift for somebody special, which you can only get with bottlabel.com. The unrepeatable product is a core of our business.
Our work
Each day we develop and work on the strategy of our service in order to become more innovative and friendly to our users.
The product we offer, self-adhesive labels for bottles definitely stands out from the others and makes us the first and only company in this trade in Europe.
Expanding the offer to further categories, as well as expanding the base of available label designs directly affects customer satisfaction with our product. We fulfill orders quickly and accurately, bearing in mind the high quality and craftsmanship of labels.
We also offer the opportunity to create a unique design and a unique label on your special request.
We invite you to follow our pages on social networking sites where we provide interesting facts from "the world of labels" and news related to the novelty on our website, photos, events in which we participated and much more!
See for yourself!
Do you want to cooperate with us?
If you have an idea for cooperation, please contact us at: contact@bottlabel.com